COMMUNITY
FAQ
What distinguishes VTE?
Single-cycle : the management of VTE covers all areas of CRM plus some ERP areas (Warehouse, lists , DDT)
Open source technology
Italian design
Management "business mail"
Management NCRM © Natural CRM/li>
Available on APP and WEB
What type of company is aimed to VTE?
VTE is the ideal solution to create their own contemporary commercial structure. Specifically :
Groups of companies
Firms with offices abroad
Enterprises with distributed networks sale
Enterprises with many users with specific thrusts and vertical solutions for specific business situations
What kind of functions does VTE have?
All major CRM processes , such as marketing, sales , customer support
Reporting on the activities developed commercially
Management of the business calendar and email (Business Mail)
Budget management
Management of business opportunities
Management hierarchies and profiling data up to the individual field
Warehouse Management
Lists management
Billing
Where to install VTE?
The solution is available in different modes, the main ones:
Cloud charging user/month
On-premise pricing one shot, fixed user fee/year
Hybrid cloud and on-premise
What is the Business Mail?
The Business Mail means that VTE is able to manage the mail flow to and from the customers within the sales team or customer service by managing within the same application of the e-mail and business processes in the specific CRM.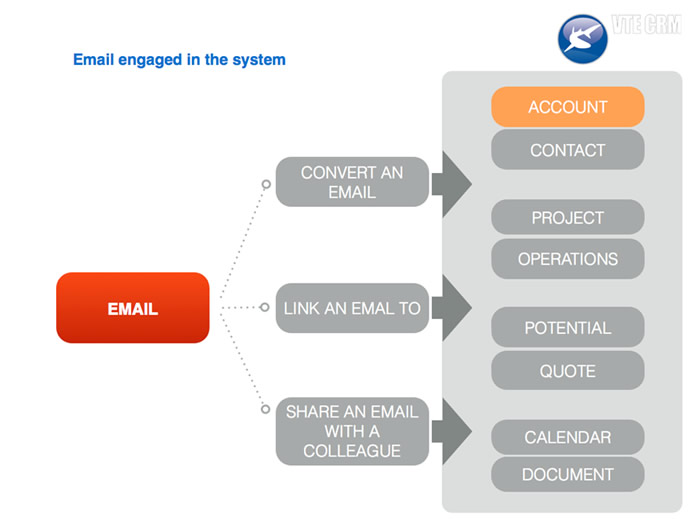 There are no obligations by choosing VTE?
VTE allows a mechanism of NO LOCK – IN users , which means freedom to decide to change platform by migrating the data in it. Ability to change from one mode of use to another, from on-premise to the cloud and vice versa. Possibility of reducing the number of users or increase them to your liking. Chance to try without incurring any costs.
Why VTE allows flexible and is easy to start?
The platform is due to be an open -source, built on standard programming languages, this architecture allows for a quick change and a great ability to adapt to the needs of the business to manage.
Why VTE CRM is defined as a con- temporary?
Because it respects the characteristics of our society:
Open
Flexible and dynamic
Cost control
Quickly adaptable to the context
Multi-language
Multi-Currency
Temporary, can be used to test projects on areas of business start-ups, commercial divisions
Solutions which integrates VTE
Perchè rispetta le caratteristiche della nostra società: